KFAXXX: CALLING CARDS FROM LONDON

---
"DURING THE EARLY 90S, JEAN-LOUIS HUHTA AKA ELECTRONIC MUSICIAN DUNGEON ACID WOULD VISIT LONDON TO CATCH THE LIVE AND DJ PERFORMANCES OF EARLY TECHNO ARTISTS SUCH AS CARL CRAIG AND BABY FORD. IN THE HOURS BEFORE THE EVENTS HE WOULD WALK THE STREETS OF THE CAPITAL TAKING IN THE USUAL SIGHTS AND SOUNDS THAT TRAVELLERS AND TOURISTS WOULD ENJOY. HOWEVER, HIS EXPLORATION OF THE CITY WENT A LITTLE DEEPER THAN MOST, HE BEGAN TO NOTICE THE COLOURFUL AND SIMPLE CALLING CARDS OF SEX-WORKERS THAT WERE PLASTERED ALL OVER THE INSIDE OF THE ICONIC RED LONDON TELEPHONE BOXES THAT POPULATED THE AREAS SURROUNDING THE CENTERS TUBE STATIONS. OVER THE YEARS JEAN-LOUIS WOULD ADD TO HIS COLLECTION WITH VARIOUS VISITS TO THE CAPITAL AND STILL TO THIS DAY TRADES THE CARDS AND COLLECTS THEM WHENEVER HE FINDS THEM.

KFAXXX REVISITS HIS SUBSTANTIAL COLLECTION OVER 100+ PAGES PRINTED ON A VARIETY OF COLOURED PAPER WITH COLOURED INK THAT REPLICATES THE DUOTONES OF THE ORIGINAL CARDS.
KFAXXX SERVES AS AN ARCHIVE OF THE CRUDE AND ARCHAIC DESIGN PRACTICES OF THE EARLY 90S, SAFEGUARDING THE IMPERFECT FONTS AND ILLUSTRATIONS THAT WERE USED WIDELY THROUGHOUT THE UNDERGROUND."

110 PAGES
MEASURING AT 10X14CM
PRINTED ON YELLOW, PINK AND WHITE 80 G/M² EOS PAPER WITH PINK GLUE BINDING.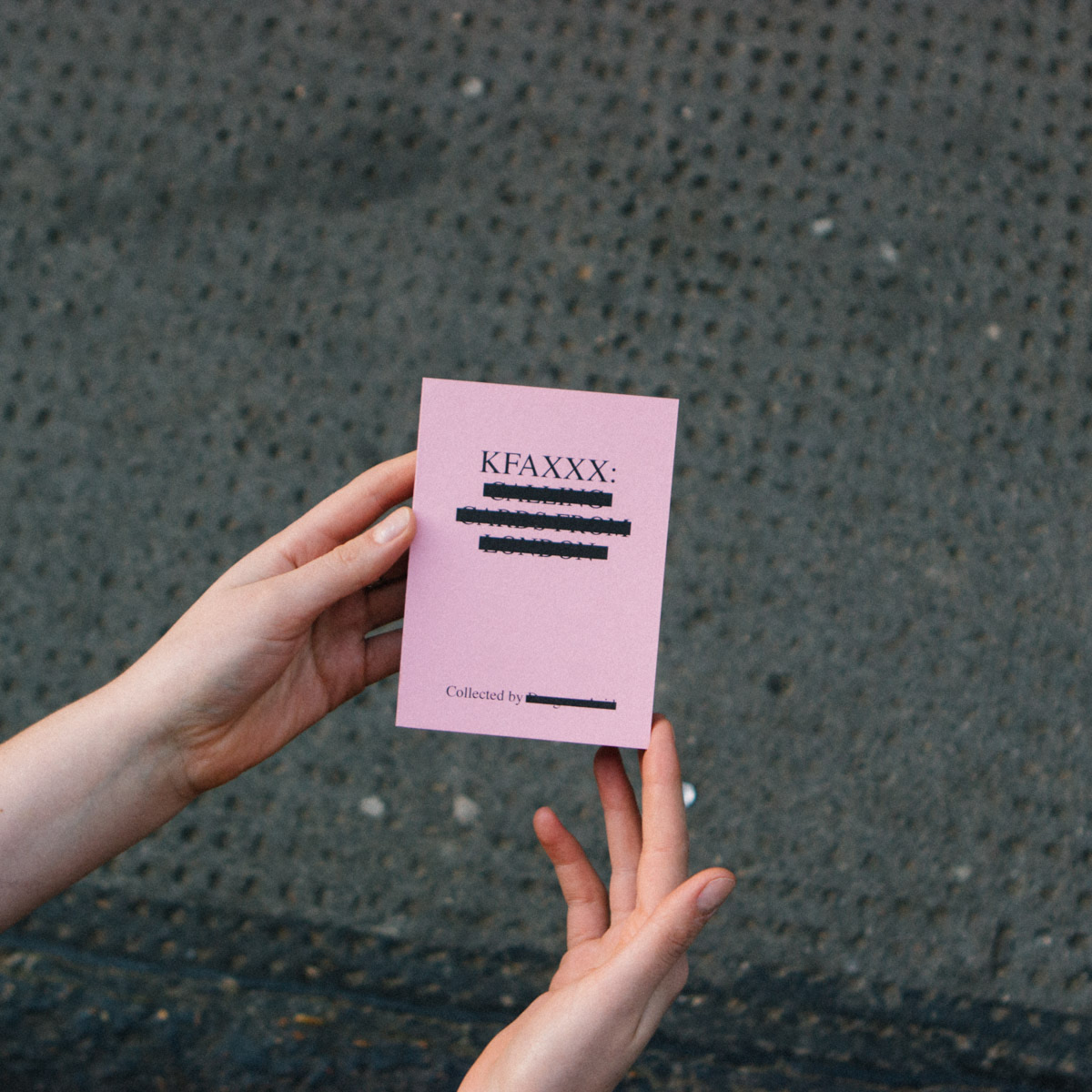 ---